The classroom, with all its limitations, remains a location of possibility. In that field of possibility, we have the opportunity to labor for freedom, to demand of ourselves and our comrades, an openness of mind and heart that allows us to face reality even as we collectively imagine ways to move beyond boundaries, to transgress. This is education as the practice of freedom.
bell hooks Teaching to Transgress: Education as the Practice of Freedom, 1994
Amber Rose González, PhD
Professor (on sabbatical 2022-23)
American Indian Studies, Chicanx/Latinx Studies, Ethnic Studies, Women of Color Feminisms, Women's Studies
Phone: 714-992-7504
Office: 1414-03
Email: AGonzalez@fullcoll.edu
Ziza Delgado Noguera, PhD
Assistant Professor & Chair
Ethnic Studies, Chicanx/Latinx Studies, Social Justice Movements, Women of Color Feminisms
Phone: 714-992-7505
Office: 1414-01
Email: ZDelgado@fullcoll.edu
Visiting Full Time Faculty 2022-23
Visiting Full Time Faculty 2022-2023
Anita Juárez, PhD
Temporary Full Time Faculty
Chicanx/Latinx Studies, Ethnic Studies, Social Justice Movements, Education
Email: AJuarez@fullcoll.edu
Elizabeth Villa, PhD
Temporary Full Time Faculty
Chicanx/Latinx Studies, Ethnic Studies, Social Justice Movements, Education
Email: EVillarosales@fullcoll.edu
Rosie Kar, PhD
Asian American Pacific Islander Studies, Ethnic Studies, Women's Studies
Email: RKar@fullcoll.edu
Steven Marsiglia, PhD
Asian American Pacific Islander Studies, American Indian Studies
Email: smar@asu.edu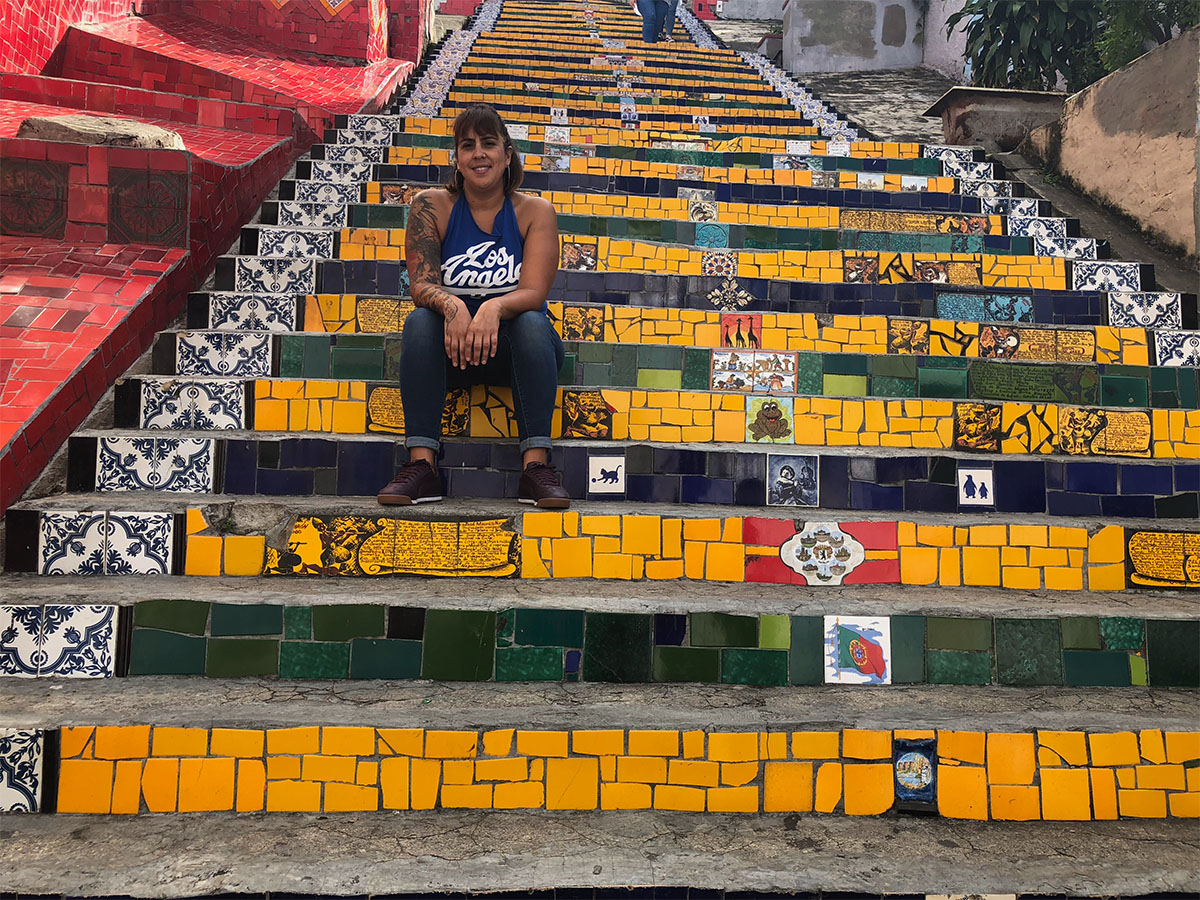 Faculty Spotlight
The Ethnic Studies department is proud to announce that Dr. G was chosen by the Academic Senate for California Community Colleges (ASCCC) Online Educational Resources Initiative (OERI) as one of nine grant recipients to write a new open-access textbook. She will be on sabbatical during the 2022-23 academic year writing and editing New Directions in Chicanx and Latinx Studies with a team of discipline faculty experts. While on sabbatical, Dr. G will also be co-editing an anthology titled Mujeres de Maiz en Movimiento: 25 Years of Spiritual ARTivism, Healing Justice, and Feminist Praxis. Both texts will be published in 2023. 
Adela Lopez, 2013
Adela Lopez received her B.A. in Spanish with a minor in Portuguese with a Certificate in Latin American Studies, and completed coursework in Mexican American Studies. She earned an M.A. in Secondary Education from CSULB. She also earned a Certificate in Secondary Reading from CSUF and earned another from INTEL.
While in her senior year at Long Beach, the Mexican American Studies Program was established and Adela finally found her passion: teaching. While enrolled in her Graduate Program at CSULB, Adela was hired by the North Orange County Community College District to initiate the development and instruction of a Mexican American Studies curriculum in response to strong student and community demand at both Cypress College and Fullerton College. That was in 1973 and she has been part of the Fullerton College faculty, exclusively, since 1974.
She and Professor Gerald "Jerry" Padilla formed the Ethnic Studies Dept. in 1973 which was the first community college Ethnic Studies Program to offer an A.A. degree in Orange County. In 1975, while at Fullerton College, Adela helped to launch a Bilingual Instructional Aide Certificate, A.A. Degree and Career Ladder Transfer Program to CSUF. Adela served as the Chair of the History Dept. and later as Department Coordinator of the Ethnic Studies Department until she retired.
She served as President of the Faculty Senate, twice, (the only Latina in the 100+year history of the campus to do so) and served on numerous campus, district, and statewide governance committees. She was a founding member of the Latino Faculty and Staff Association and served as President from 2002-2013. She also served as a member of the Board of Governors of the Faculty Association of the California Community Colleges for the Southern Region and was a member of the California Community Colleges State Chancellor's Instructional Innovations Task Force.
In her role as the primary Professor of Chicana/o Studies, Adela served as MEChA advisor since 1973, and briefly for Indigenous Peoples of the Americas. Adela was the faculty advisor to the most active chapter of the Latina Leadership Network the CCC system and was named the Annual Madrina in 2006. She served as a faculty advisor and mentor to the FC Dream Club in support of AB540 students and was an active member of the FC Dream Team.
She was a PUENTE Mentor since the program's inception and she also volunteered as an UMOJA Mentor. In 2006 she was awarded the Apple of Gold Award by the Hispanic Educational Endowment Fund (HEEF) for her teaching and commitment to students. Over the years, Adela's Chicana/o Studies classes have been instrumental in organizing several key campus events in an effort to not only engage students outside the classroom but to allow them to experience, reclaim and pass on their heritage to their peers, their families and the campus alike. (e.g. Día de los Muertos, Kindercaminata, Bienvenidos, 5 de mayo, Latino Student Forum, etc.) This has been done to provide students of color opportunities to locate and experience familiar activities, artifacts, spaces, etc. and in so doing support the retention, success and persistence of first-generation students in a primarily white institution.
Lastly, Adela integrated a consistent community service requirement (via service-learning) into the fabric of her curriculum as a means of re-enforcing a major tenet and praxis of Chicana/o and Ethnic Studies ideology, community engagement and service, while at the same time enhancing the student's opportunities for success and meeting the various needs of the community surrounding FC. Adela is still active in many aspects of the Ethnic Studies Department and Fullerton College.
Gerald Padilla, 2018
Professor Gerald 'Jerry' Padilla's Retirement by Dr. Jorge Gamboa, Social Science Division Dean
Throughout his career as an educator, Professor Padilla has touched thousands of lives across the district and is one of Fullerton College's most beloved and well-known professors. Professor Padilla was born in Fullerton. In fact, his grandparents, father and his siblings lived in a house that used to be where the Fullerton College Library currently sits.
The Padillas are considered pioneers of Fullerton. Professor Padilla arrived at Fullerton College in 1969 to teach American History as an adjunct professor. He is an intellectual and emotional product of the 1960's Civil Rights, Chicano, and Anti-Vietnam war movements, which manicured him for to be educator he is today. Professor Padilla graduated from Anaheim High School and attended Fullerton College from the fall of 62' to spring of 64.'
He earned his bachelor's from California State University, Fullerton and a master's degree from UCLA. To this day, he credits Fullerton College professors for preparing him for the rigor of Cal State Fullerton and UCLA. He became a full-time Ethnic Studies professor at FC in 1972 and considers Fullerton College his home. FC faculty who wear jeans today may want to thank Jerry for that. He was the first professor to wear Levis in 1969!
Throughout our campus and community, everyone knows Professor Padilla. He has been actively involved in community events such as the Placentia Tamale Festival and other cultural events throughout North Orange County and Santa Ana. Professor Padilla's many accolades and achievements include being selected as Best Community College Teacher of the Year in 2012 by OC Weekly and he was most recently awarded the prestigious 2018 North Star Award for his exceptional work at the college. Jerry was honored by The National Hispanic Endowment Fund in 1998 as the Hispanic Community College Teacher of the Year.
He has been completely immersed and a prime mover at Fullerton College for more than 46 years. Professor Padilla gives all praise to his Creator who has blessed him with a career of educating students. Likewise, he says that he has equally been blessed by the thousands of students who have nurtured him. In retirement, he will transition into elementary education as a Volunteer Instructional Aid and Teacher's Resource. Jerry will continue as Santa Claus and he looks forward to enjoying retirement alongside his wife, children, and grandchildren. He leaves us with one simple message: Whatever you do in life, do it with PASSION and treat what you do as a career rather than a job. Oh!…and attend ALL FC athletics games! Congratulations Professor Padilla!
Ernest L. Bridges, Ph.D., 2021
Dr. Bridges is a long-time educator of African-American Studies at Fullerton College and California State University Fullerton (retired). While at Fullerton College, he functioned as faculty advisor and advisor/mentor to students belonging to several campus organizations such as the Black Student Union (BSU) and campus coordinator of the Umoja Community.
He is also an instructor of African American History for the 100 Black Men of Orange County and advisory board member to the "Passport to the Future Program." Additionally, his background includes working many years as a Human Relations Manager for several Fortune 100 Companies. He has also served as an Elder and board member for the California Umoja Community, board member of the Western Region Council on Black American Affairs, WRCBAA, and President of the Southern California Council on Black American Affairs SCCBAA.
Bridges' educational philosophy is students should feel comfortable but challenged. It is his practice to be fair and approachable on issues and evaluations. He has refined his teaching style to reflect motivation while bridging the gap between theory and practice. His approach is to be flexible, fluid, experimental, and confident to react and adjust to changing circumstances.
He understands that there is a direct correlation between a teacher's self-esteem and student learning: the higher the teacher's self-esteem, the more students learn. Professor Bridges believes in empowering students to become better individuals enabling them to cope in today's world. He mentors students to employ better time management techniques while encouraging them to develop their survival skills and improve their grade point averages. He has a BS in Education, MBA with an emphasis in Industrial Relations, and a Ph.D. with an emphasis in Religious Studies.